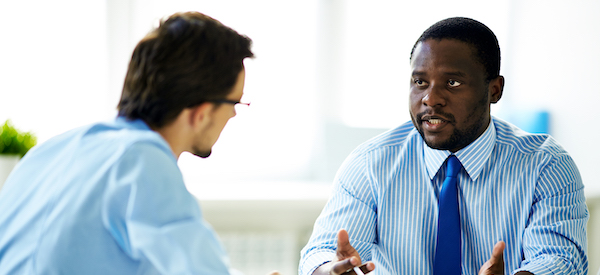 As leaders, we are often in situations that involve uncomfortable conversations – but conversations that are necessary to help our teams and employees achieve maximum potential, for themselves and for the organization. Unfortunately, because these conversations can be difficult, they are often avoided.
A few years ago, our team put a definition to the term "missing conversation":
A necessary conversation between two or more individuals relevant to performance, effectiveness, relationships, or well-being that is avoided, ignored, or denied because of a belief that having the conversation would spark strong emotions or negatively impact a relationship or situation.
Leaders refer to these types of conversations as pivotal, difficult, crucial, and honest conversations (also the name of some popular and helpful books on the topic). And while they are crucial, we often avoid, ignore, or deny them, for myriad reasons:  we may not want to know the answer; we may not believe the other individual will be completely honest; we don't know what to say, how to say it, or why we even want to say it. When these missing conversations stay missing, performance is being affected somewhere, somehow; individual performance issues that lead to team performance issues. Some common scenarios might include confronting a peer about their lack of pulling their own weight, talking with your boss about a behavior that is diminishing your leadership, or letting go of the person on the team who's not a good fit.
As leaders, we have a responsibility to not only have these important conversations, but to also create the conditions for our teams to have timely, open, honest, compassionate dialogue with one another.  The question I am often asked is, "Where do I start?"  This is a focus area of our TeamFORWARD engagements—it starts with asking ourselves a few fundamental questions:
What concerns are physically manifesting (sour pit in stomach; headaches)?
What are you saying to yourself in the car that you want to say to someone else?
Is there anything you're avoiding that could, by your avoidance, be letting the team down?
What's keeping you up at night?
These questions inform the conversations needed to go from "missing" to "found." We walk the talk of addressing important issues and challenges through open dialogue, and by do so, begin to build an important culture within our teams to have these conversations as well. That's how we drive performance; that's how we blow the doors off our potential.
Keep leading!