Five Tips for Living Half-heartedly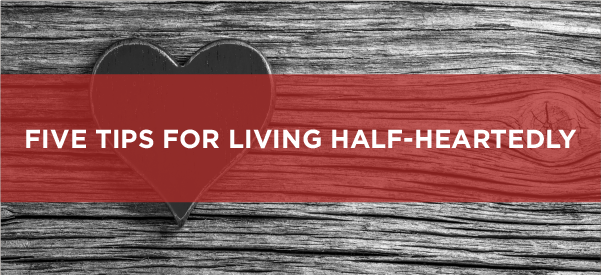 WARNING: THIS POST CONTAINS HUMOR AND ADVOCACY OF AN APPROACH WHICH, IF ADHERED TO, WILL LEAD YOU RIGHT BACK TO THE PLACE YOU HAVE ALWAYS BEEN.
Silence honest perspective.
When faced with the choice to either share or solicit honest perspectives, keep quiet. This will ensure that you don't fully form your concept of anything in deep and meaningful ways. A half-hearted person maintains an insufficient perspective and thus consistently questions their own and others' values, beliefs and opinions.
Blind yourself to the future.
One thing that is said to separate humans from animals is our ability to barter with the future. In other words, we have a unique ability to envision something better and then sacrifice to make it a reality. This is one of the fastest ways to relinquish your half-hearted lifestyle. If you want to continue in your current reality indefinitely, you must blind yourself to any future and thus choose to continue doing what you've always done, which has always given you what you've always gotten.
Avoid discovery and exploration.
While tip number two is about blinding yourself to future possibilities for yourself and others, avoiding discovery and exploration requires a cautious approach to anything that could cause you unnecessary dissatisfaction with your current mode of being. Exploration of new or different mindsets or approaches to problems will only cause you to wonder why you ever left the dock of indifference. To remain firmly tied to a long tradition of lukewarm leadership, please – for the love of all things satisfactory – don't try to discover new approaches to old challenges.
Quit doing things that don't pay off immediately.
Forget about the idea that incremental positive action consistently delivered over time will change anything for the better. JUST FORGET IT. People who want to live the same day tomorrow as they did yesterday will only do what is immediately gratifying. This will compound your ability to execute tip number five.
Stay in your comfort zone.
Don't leave the reality you know. Stay where you are. If you do nothing else, do this. It will ensure that you remain or become half-hearted in your life and leadership.
As you may have guessed, this post is meant to give you some contrasting perspectives. My hope is that as you decide how to live out your one life, you choose the wholehearted approach and reverse the above admonitions in the process. Those you lead, and those who lead you, will thank you.
"Wholehearted living is about engaging in our lives from a place of worthiness. It means cultivating the courage, compassion, and connection to wake up in the morning and think, No matter what gets done and how much is left undone, I am enough. It's going to bed at night thinking, Yes, I am imperfect and vulnerable and sometimes afraid, but that doesn't change the truth that I am also brave and worthy of love and belonging." – Brene Brown