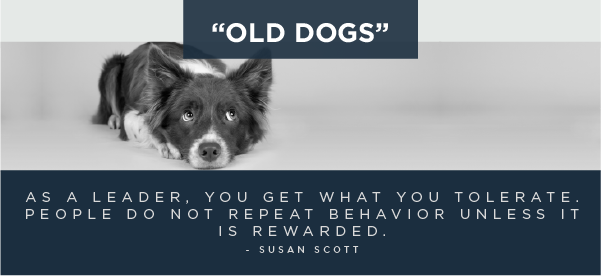 I got really irritated the other day because the new pair of pants I purchased – and had worn only once! – got ruined. My dog Halo, in all his joy to see me walk through the door, jumped up on me and his nails snagged the fabric. Honestly, I was really mad, but not at him. At me. When he was a pup, these "jumping up" greetings were adorable and welcomed … and therefore rewarded. Now that he's 42 pounds, I'm rethinking those rewards. So when I was recently reminded of this Susan Scott quote, I thought, yep, it's true for humans, too. (I'd go so far as to suggest it's a mammal thing, except for … you know … cats!)
Take some time this week to consider what behavior you are unintentionally – or intentionally – rewarding. "Chew on" some of these:
Allowing people to submit work just a day later than originally promised
The monthly report you asked for years ago just magically, and gradually, stops showing up in your inbox
Tolerating poor attitudes
Enabling low performance by "helping"
Accepting arrivals to your weekly meeting at 10:02 – when it starts at 10:00
Working longer hours because someone else didn't do their part
And remember, you CAN teach an old dog new tricks. Ask Halo in a few weeks.
Keep leading.