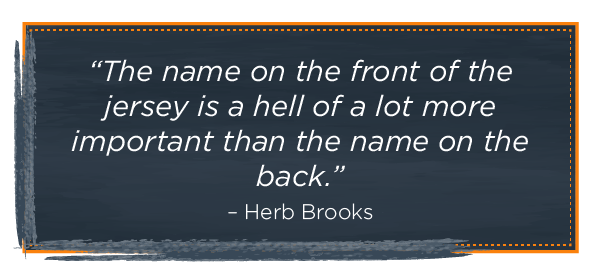 "The name on the front of the jersey is a hell of a lot more important than the name on the back."

– Herb Brooks
This quote by the 1980 Olympic hockey coach is a sentiment we seem to have lost in our country – or at least temporarily misplaced. We seem to have lost our way, the pride of being American somehow lost in the division sown over decades and inflamed in recent years. The events of Jan. 6 in our nation's capital left me disappointed with myself, our government, and our country.
While I believe our country has the potential to be great, we are far from that place, and I am embarrassed that I have not done more to speak up. I have been careful and measured with sharing my opinions, concerned that expressing my authentic thoughts could potentially damage my business – and perhaps it could. But that is the price of leadership. Not expressing my thoughts about one of the most divisive eras in American history is not leading.
One of the five dysfunctions of a team, as written by Patrick Lencioni in his book of the same name, is inattention to results, when the attention is instead given to status and ego. It occurred to me, after those Jan. 6 events, that my remaining silent all these months had a lot to do with me not wanting to adversely affect my status.
But what about the status of those less fortunate, who have been irreparably damaged by a system mired in inequality and an administration that at times seemed to have little or no respect for anyone but those who fed the president's ego, status, and wealth.
We are not out of the woods with the change in administrations, but our new leader is hopefully a small step in the direction we need to go. I am hopeful that he will be able to unify the country in ways his predecessor wouldn't, but am also fearful that his moderate approach will maintain the status quo… as does mine.
I am not sure that I am ready for living up to this moment and doing what is necessary to make this country great – ensuring that everyone I meet truly has the opportunity to maximize their potential. But I believe I'm ready to try, because I need to model inclusive leadership. It's not about keeping the peace; it's about inspiring people – all people – to achieve their individual greatness and contribute to the greatness of the whole. It is, as Coach Brooks would say, about finding the pride on the front of the jersey.