Mindful leaders learn how to shift their mindsets in real-time so they can influence and inspire others to adapt.
Call us at (315) 635-6300 for more information or register below.
WHO IS A MINDFUL LEADER?
The Mindful Leader is aware and takes action. It is someone who is keenly aware of self, others and the situation, and able to adjust their approach and actions based on what they are experiencing in the moment for the most meaningful outcome.
Volatility, uncertainty, complexity and ambiguity have always been part of the organizational landscape.
More than ever before, people need and deserve a grounded and present leader who can facilitate the pivotal conversation as well as celebrate the wins – a Mindful Leader. Through their agility to shift their own mindset, the Mindful Leader effectively influences others to adapt to new and changing situations. This course is equally valuable to the experienced leader as it is to new leaders.
Experience with Emotional and Social Intelligence training is helpful, but not essential.

Participants will learn how to be more self-aware, socially aware and situationally aware.

Participants experience practices in becoming more responsive and less reactive.

Participants will learn to demonstrate traits of the grounded and present leader.
Includes:
Four 3-hour sessions

One 1-on-1 coaching session

One group coaching session
"Stillness is what aims the archer's arrow. It inspires new ideas. It sharpens perspective and illuminates connections."
– Ryan Holiday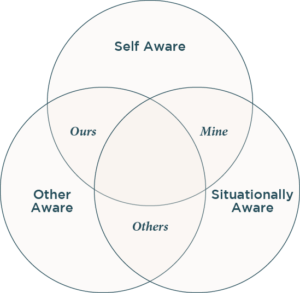 The four workshops will take place 9:00 am – 12:00 pm on:
Wednesday, September 21; 9:00a – 1:00p

Wednesday, October 19; 9:00a – 1:00p

Wednesday, November 16; 9:00a – 1:00p

Wednesday, December 14; 9:00a – 1:00p
One group coaching session will be held:
Wednesday, November 30, 2022; 10:30a-12:00p
All sessions will be held via Zoom. Login information will be provided prior to the first session.
Please provide the attendee's name(s) and email(s) in the comments. You will receive an invoice upon registration.